Onsite Help with Dallas Janitorial Services
Cleaning isn't always something that can wait for when everyone clocks out and goes home. Sometimes, you need someone onsite to keep your office spotless during regular business hours, too. Get the help you need with porter services from Dallas Janitorial Services.
With an onsite porter, you can keep your business running smoothly all day long. Accident in the kitchen? We got it. Team lunch in the conference room? We'll get rid of the pizza boxes. Whatever you need, your porter will be ready, willing and able to help keep your facility spot-free.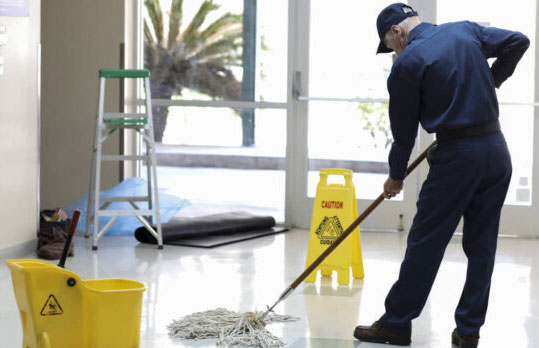 A Seamless Approach to Cleaning
Cleaning your office space doesn't just mean keeping the trash bins empty. It means maintaining your workspace without any distractions. To do this, our porters follow your office policies and guidelines so there's no confusion or misunderstanding between them and your regular employees. Plus, they wear the appropriate uniform to blend into your office environment.
To make sure you're getting the exceptional customer service you deserve, we'll work together to create a list of daily duties and responsibilities for your porter.
Some porter services include:
Dusting Flat Surfaces
Emptying Trash Bins
Cleaning & Sanitizing Restrooms
Wiping Down Stainless-Steel Appliances
Disinfecting Door Handles
Cleaning Conference Rooms
Local, Reliable Commercial Cleaning Service
Founded in 2006, Dallas Janitorial Services is locally owned and operated, providing you with superior commercial cleaning service and quality. Our team of dedicated professionals provides exceptional customer service with thorough attention to detail.
No matter what your industry you're in, our porters sweat the small stuff so you can focus on the big picture. It's this dedication to quality that allows us serve you without the hassle of a long-term contract.
Keeping Your Team and Customers Safe and Healthy
At Dallas Janitorial Services, the safety of your team and customers is always our top priority. That's why we stay up-to-date on the latest news and recommendations from the CDC, EPA, World Health Organization (WHO) and Occupational Safety and Health Administration (OSHA). Our disinfectant and cleaning methods are based on the safety measures, infection control and cleaning protocols recommended by these expert organizations.